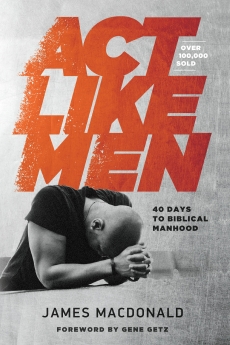 In Act Like Men, James MacDonald has written this devotional to guide men in becoming the men of God they are called to be. He has written this book for the regular guys and he commonly refers to this guy called Joe Screwdriver. Joe works a job he isn't fulfilled at and he is married with kids. But he is still longing for something more and doing something great. He also has written this book for single guys and he has a straight call to encouraging them to begin pursuing the single women that are available. MacDonald shared the harsh truth that men are in trouble with struggling with sin and temptation and they aren't growing spiritually. One of the main verses of the book is 1 Corinthians 6:13-14 and it talks about standing firm in your faith, acting like men, and living and walking in love.
One of my favorite chapters was entitled, "A Quality Man". This chapter discussed the importance of not living in fear. Many men are afraid of failing at their job, fears rejection, fears being cheated, fears being alone, and being like his father who wasn't a good example of being a dad. MacDonald strongly suggested that we confess our sin of fear and put our trust in our Creator. The chapter also looked at the topic of being angry and how deadly this emotion can affect our lives. The power of forgiveness will greatly change your life if you forgive the person who has hurt you.
I would recommend this awesome book for men to every single man. I liked how James MacDonald wrote this devotional and related to the average man. He knows typically men don't like to read as much as women do. He was very real in how he shared about the different struggles he has dealt with. One of the struggles, he opened up about was lusting at Playboy magazines at a young age. He also shared how this progressed throughout his life and how he was able to get free and stay free. He set up strong boundaries in his marriage to protect himself against temptations. This book taught me a lot about how to live a life that is pleasing to God and how to stand firm and act like a man!
"I received this book free from the publisher through the Moody Publishers book review bloggers program."
If you would like to purchase a copy of Act Like Men check it out below: